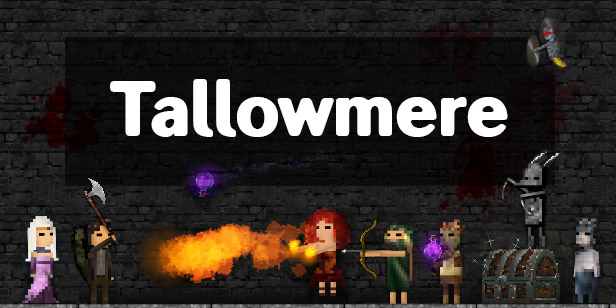 Description
Tallowmere is a lovingly violent 2D action platformer with an emphasis on executing your hero's jumping, shield-blocking, and weapon-attacking at the right moments as you romp through a procedurally-generated dungeon. Life is low, danger is high, enemies are everywhere, blood and body parts are plentiful, death is permanent, and you just know you're going to beat your high score this time.
History
In December 2013, a stay-at-home dad was fed up with managing stamina bars and watching corpses fade away in games. Deciding to put his programming knowledge to the test to create his own game, Chris McFarland proceeded to pull strengths from various gaming inspirations to create a bloody replayable roguelike-inspired platformer called Tallowmere, with a focus on random rooms, minding your positioning, gaining instant gratification when pressing the buttons to use your shield or weapon, and being able to admire the bloodstained beauty of your slain foes.
Features
Randomly-generated rooms, with each room bigger than the last
Satisfying blood splats, gibbing, particle effects and sounds
Responsive skill-based gameplay, with no ammo, mana, or stamina gauges to worry about
Heaps of ranged and melee enemies (and elites!) to use your shield against and kill when the coast looks clear
Traps and obstacles to dodge and avoid
Special boss and event rooms
Unique weapon types and various equippable shields and garments to loot
Infinite jumping
Singleplayer and local co-op (up to 4 players)
Permadeath, with a typical run lasting from 1 minute to 2 hours depending on skill
---
Videos
Tallowmere - Trailer (YouTube)
---
Images
download all images as .zip (11.4 MB)
---
Logo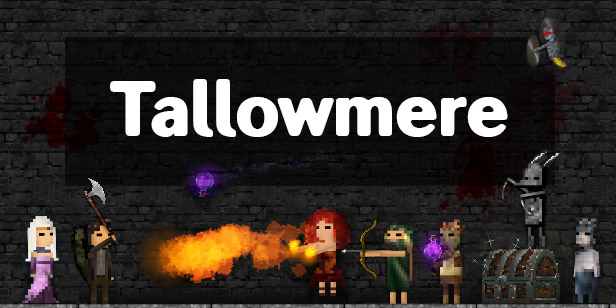 ---
Request Press Copy
---
Monetization Permission
Chris McFarland allows for the contents of Tallowmere to be published through video broadcasting services for any commercial or non-commercial purposes. Monetization of videos created containing assets from Tallowmere is legally & explicitly allowed by Chris McFarland.
---
About Chris McFarland
Boilerplate
Chris McFarland is an independent game developer that has taken a liking to the Unity game engine. Tallowmere is Chris' first commercial game.
---
Tallowmere Credits
Chris McFarland
Sole owner and developer
Contact
---
presskit() by Rami Ismail (Vlambeer)